Menu
Current Situation
Projects:
Future Perspectives

"Improvement of the Quality of Life of Persons Living with HIV/AIDS"
Project Description
The spread of HIV/Aids is likely to have a devastating impact on future social and economic development of Cambodia. HPHAO, in recognizing the implications of the epidemic, is therefore endeavouring to promote services in poor communities aimed at enhancing education and knowledge amongst the most vulnerable of families and encouraging their full participation in society.
Current Situation
In the past years HPHAO has been providing services to many HIV/Aids infected and affected people. With these experiences HPHAO identified the following problems:

Many families lack food security.
Families have low income and little opportunity to generate additional income.
A large number of families are land-less.
Single parents/widows cannot find care for their young children so they can work.
Many families lack access to health services.
Lack of awareness of primary health care and of HIV/Aids & other STD's.
HPHAO wishes to improve the Quality of Life of Persons Living with HIV/Aids by meeting priority needs expressed by the patients themselves. Therefore following projects were developed:

Home Based Care to HIV/Aids infected persons and their families

Micro Business Trial Project

Awareness and Advocacy on all kind of Aids related issues

Referring of HIV/Aids patients

Child Care Centres
Future Projects
Home Based Care to HIV/Aids infected persons and their families
Home Based Care is provided in Phnom Penh en surrounding villages by volunteers, who themselves are HIV infected and who have been trained by the Advisor and the Cambodian Red Cross. In the past, HPHAO was providing Home Based Care to around 130 persons and families. Initially traditional medicines have been given free of charge to these persons, though funding constraints in the past year forced HPHAO to stop this free distribution. Lack of funding is not the only reason why the distribution of traditional medicine has decreased. Patients have been referred to Anti Retro-Viral (ARV) medicines providers and most of these providers do not allow to mix traditional and ARV medicines.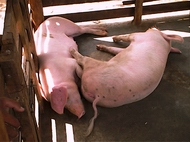 Micro Business Programme
Ten HIV-infected families have been selected based on the urgency and needs assessment of the volunteer in collaboration with the Finance Manager to start the Micro Business Programme. Based on discussions with these families pigs have been donated to them, as they wanted to start pig-raising. However, though everything happened in a participatory way, only one family "survived" the start-up phase. Because of financial management problems HPHAO was not able to provide financial assistance when a family member fell ill and the family then sold the pig to cover the medical costs. Other pigs became sick and were terminated.
It has been seen in other projects all over the world that Micro Business Programmes can be very effective, HPHAO is looking for possibilities to restart and implement these Micro Business Programmes in the communities.
Awareness and Advocacy Programme
In the past five years HPHAO has always collaborated with other organisations during events in relation with HIV/Aids. Staff and volunteers of HPHAO have raised awareness in project areas about HIV/Aids and the prevention of it. Because of their attitude, discrimination of HIV-positive persons decreased and neighbours were more willing to accept them in the community and were also willing to assist these persons in their personal life.
HPHAO is member of HACC with around 40+ members.
Referring of HIV/Aids patients
Persons from all over Cambodia are visiting the office of HPHAO for assistance. When it is not yet clear that they are HIV positive or suffering from Aids, volunteers assist in checking their blood for confirmation. From experience it is clear that most of the patients are very poor. The first need of the patient is their health situation and medical treatment.
If the patient is only showing some symptoms, medical treatment is offered by providing the opportunity to receive traditional medicines from the traditional healers and information is given that at this moment there is no medicine in the world that will cure this disease. If the patient is already too sick, they will be referred to one of the hospitals in Phnom Penh. Therefore a working relation has been established with the following hospitals in Phnom Penh: Centre of Hope or Sihanouk Hospital, Calamette Hospital, Russian Hospital and Maryknoll.
Child Care Centres
HPHAO is running three centres at the moment where a total of around 300 children under the age of 7 years could be receiving pre-education from nine teachers. At all schools a kind of national curriculum is used by the teachers who have received training from the Advisor, a Dutch volunteer and the Young Family Organisation. As many parents are away from home during the day, earning their living in Phnom Penh, two of the three centres are providing breakfast and lunch to the children.
Borei Khela
This commune has a very difficult social structure, where children are not stimulated to follow any education. A centre was set up in a wooden shack under the care of a partner organisation a few years ago. At this centre around 20-30 children were visiting frequently. Two teachers were hired, one of them HIV positive. However the Phnom Penh municipality has closed the centre, as the municipality is planning to demolish the commune. The situation changed much in Borei Khela due to the fact that the Municipality demolished the "houses" of the slum-dwellers, including the centre of HPHAO. Among these people tension and rage raised high against the authorities and it was not safe to keep the centre open before the demolition.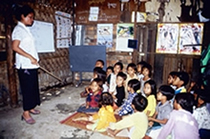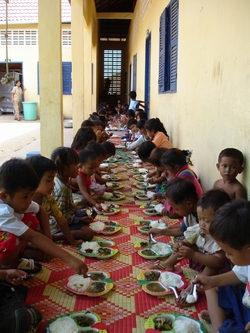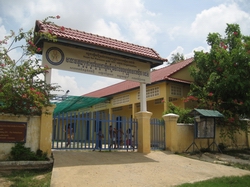 Anlong Khong
Another new commune existing of reallocated people, after huge fires in the slums of Phnom Penh. It is a small commune with around 2600 people, about an hour outside the city. Compared to the other centres, here parents are more interested in sending their children to school. The school has the capacity to hold around 200 children.
The school has been built on donated ground. The local authorities have given the plot to HPHAO and with financial assistance from Foundation Active Help Cambodia in the Netherlands a school has been built. Villagers have contributed in the construction of the school. HPHAO finds it important to include the locals, to create employment, but also to create a sense of responsibility for the property. Six teachers have been recruited and trained to teach different classes. Two free meals a day are provided for children visiting the child care centre. Unfortunately the school is closed due to water damage.
Renovation is necessary after last rainy season when the sand foundation under the school moved, which effected in breaks in the floor, wall and main construction, making the school unable hold the children. HPHAO is looking for funding to re-open the school and get sufficient funds to keep it running after reopening.
Anlong Khrnang
Every day around 50 children are attending the classes. Classes are open from 7.30 till 11.30 am and in the afternoon from 2 till 4.30 pm. However, during the lunch break around 25 children are staying in the centre, as their parents are in Phnom Penh. Breakfast and lunch is provided to the children staying in the centre. A vegetable garden is providing vegetables for the lunch.
The centre in Anlong Khrnang is the centre with the fewest problems. Children live nearby and the contact with the parents is good. If the centre was bigger, more children are able to visit the centre. Authorities are still not willing to donate land to HPHAO in order to construct a better accommodation for the centre. Another option could be to rent a plot just beside the present centre, though the rent is much too high at the moment.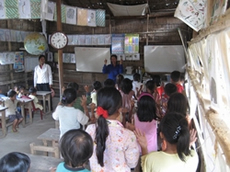 Future Projects
Cambodia is one of the many developing countries that has long suffered from low agricultural productivity that has lead to an underfed and malnourished population. 2008 has brought an acute global food shortage that has effectively reduced poverty stricken Cambodian family's abilities to provide even the most basic food. Currently 65% of Cambodia's populations are considered impoverished.
Nevertheless there are opportunities to reduce poverty and for impoverished peoples to become more self-sufficient, given the right support and education. Maximising the value of available resources by establishing home gardens, practicing sustainable agriculture techniques and maximising the potential of other locally tailored opportunities can help turn the tide and fortunes of many (people in Cambodia / impoverished Cambodians.)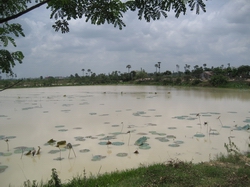 Anlong Khong was established in 2001. Anlong Khong is home to around 2600 people who were relocated from an inner city slum area in Phnom Penh, Cambodia. This relocation has resulted in people un-employed, impoverished, and disillusioned by local government. Anlong Khong is located 20 km from Phnom Penh thus employment opportunities are limited. The increased number of industrial facilities in the proximity to Anlong Khong has effectively reduced the availability of arable land, land that may otherwise be available for agricultural activities that can help improve the diets of local families.
An opportunity is the 1ha pond that has the potential to provide a significant proportion of dietary protein through aquacultural activities. Improving this pond, providing aquacultural training to villagers and providing commercially available fish foods would allow intensive farming of this pond. Making villagers not only able to produce enough fish for local consumption but also provide commercial benefit when excess fish are sold in local markets. Consultation with Government Department of Aquaculture suggests that if this pond is redesigned it has the potential to produce 200,000 to 500,000kg fish each year when intensively managed. (With a market value of 1$ a kilo).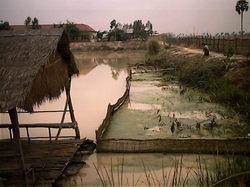 Surrounding this pond is approximately 1600m2 of currently under-utilised land. Banana and mango trees are currently growing in this area however it is envisioned that a wide range of vegetables can be grown around the perimeter of the ponds on a rotation basis. Mushrooms are also a valuable source of protein. Several species of mushrooms may be grown using composts, poultry manures and rice straw while several more species can be produced on wood shavings within cheaply constructed shelters.
Education
It is important to reduce hunger and end poverty, however the most important thing is to offer education, and subsequently power, to the poor so that they can fight for themselves. There are many NGO's, Governments Departments and commercial enterprises in Cambodia that have the ability to provide training relevant to the above mentioned activities to people of Anlong Khong. Given the appropriate financial support the people of Anlong Khong, they can improve their own livelihoods, reduce hunger and positively contribute to their health and nutrition.