Special thanks to:
Foundation Watercarriers, The Netherlands
Foundation Active Help Cambodia, The Netherlands
Dutch Embassy in Bangkok, Thailand
British Embassy in Phnom Penh, Cambodia
Private donations

Also a special thanks to the volunteers who contributed their time and energy to HPHAO during their stay in Cambodia.
Willy Mentink, The Netherlands
Owen and Eline, The Netherlands
Pieter and Stephanie, The Netherlands
Elizabeth, The United States of America
All Volunteers from Outreach International, The United Kingdom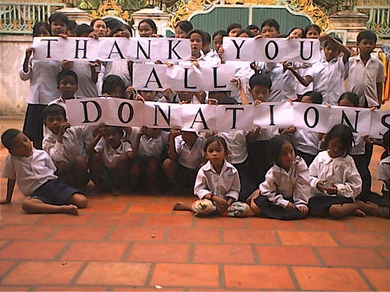 Volunteering!
If you would like to volunteer at HPHAO or one of the partner organisations, see contact for more information.
Donate!
If you like to make a donation to HPHAO please contact us or make a donation via the website of Foundation Watercarriers, the partner in the Netherlands.
Any other form of help is always welcome. Feel free to contact HPHAO to be informed about current necessities.