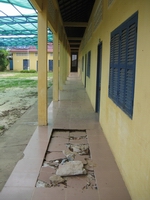 School closed due to water damage
Unfortunately the school in Anlong Khong had to close. After last rainy season the sand foundation under the school has moved, which effected in breaks in the floor, wall and main construction, making the school unable to hold that many children. At this moment HPHAO does not have the funds to renovate the building. Besides funds for renovation HPHAO is looking for investors who are willing to commit to a long term relation to keep the school running for a long period of time, as there are now insufficient funds to keep the school running.
Sponsor found for developing fish pond
The community of Anlong Khong donated a 1ha pond to HPHAO, which has the potential to provide a significant proportion of dietary protein through aquacultural activities. Currently there is one pond, however this pond can be restructured, improved and divided into several ponds to meet the optimum conditions for aquacultural activities such as fish farming.
Improving this pond, providing aquaculture training to villagers and providing commercially available fish foods would allow intensive farming of these ponds so that villagers are not only able to produce enough fish for local consumption but also provide commercial benefit when excess fish are sold in local markets. Habitat for Humanity has offered to provide half of the costs for the commercial development of this fish pond, in order to bring the self sufficiency to the community! More information about this project can be found here.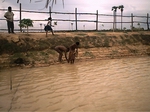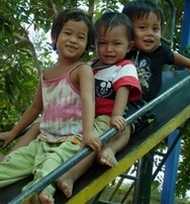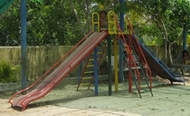 British Embassy updates playground Anlong Khong
The British Embassy in Phnom Penh organised an away day on 11 February 2009. The subject of this day was the child care centre in Anlong Khong. The center received new seating attributes and besides that the playground was totally updated by the employees of the British Embassy. We would like to thank the British Embassy for their donations, time and effort.